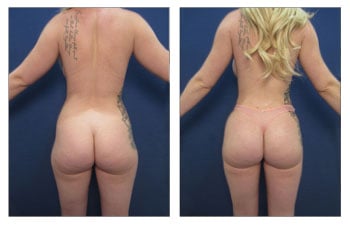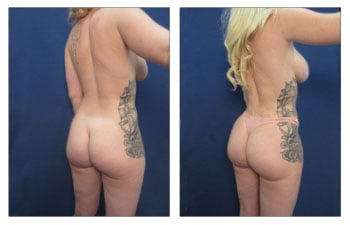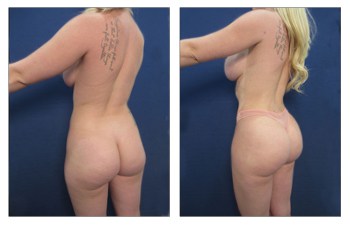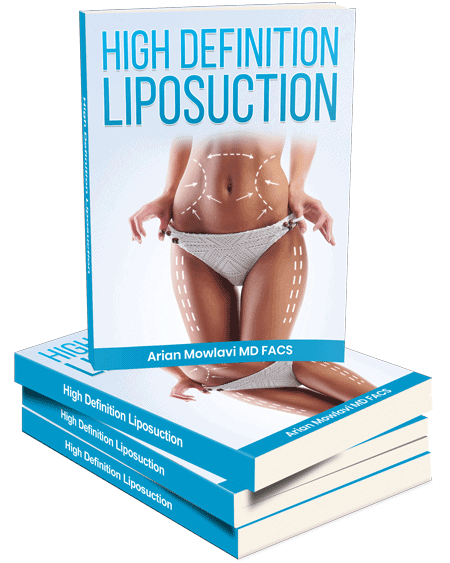 Lateral hip augmentation is essential to BBL results since it maximizes lateral buttock fullness. Filling the lateral buttocks contour is essential to converting a double bubble to an hourglass shape, the most sought out buttocks shape desired by our female clients.
The hourglass remains the iconic symbol of the female beauty that is described by the female silhouette. Lateral hip augmentation, when combined with mid butt filling, provides maximum volume filling of the lateral buttocks contour.
This preference was determined after surveying over 650 female patients desiring buttocks augmentation. Although the mid and lower buttocks fullness was most preferred by Hispanic and Afro-American patients, it was also identified as the overall preferred buttocks shape.
In addition, maximizing lateral hip and mid-buttock fullness was preferred by middle age patients over younger (<21 years of age) and older patients (>55 years of age).
Why is Lateral Hip Augmentation Essential to Brazilian Butt Lift?
Unlike a mid-buttock filling, lateral hip augmentation must be performed from both the posterior but also the anterior aspect. Specifically, the patient is first placed on her stomach so that 90% of the buttock cheek filling can be accomplished.
While in this position, the majority of the lateral hip is also filled in. However, when the patient is flipped to her back, the lateral hip is again evaluated and routinely, small areas of residual concavity require filling.
On average, approximately 10% of the lateral hip filling is performed from the front side. The endpoint for lateral hip filling is to create a tilde curve "~" shaped contour line along the buttock and hip region.
When large amounts of lateral hip filling are required, expansion vibratory lipo-filling can be utilized to ensure adequate space to maximize filling volumes.
This technique utilizes a high-frequency oscillating cannula tip with an enlarged tip, called the basket, that literally expands the soft tissue so that fat grafting volumes can be maximized.
When maximal lateral hip augmentation is combined with maximal waistline narrowing, termed snatching the waist, dramatic female curves are recognized. Maximal lateral hip augmentation is most often desired when patients present with prominent legs.
This allows for a smooth transition from the buttock to the upper legs. If you are considering lateral hip augmentation, the Buttock Assessment Tool can be utilized to confirm that this is, in fact, the look that you are going for.
Following a consultation with Dr. Mowlavi, you can be reassured whether lateral hip augmentation essential to BBL should be a part of your Brazilian Buttock Lift regimen.
This 23-year-old female who was already an 8 on the HDL body scale but used HD lipo 360 to get to a perfect 10!
Related Posts