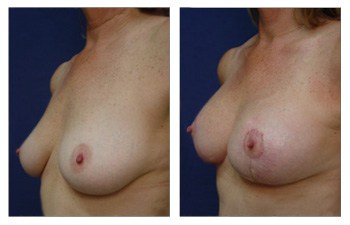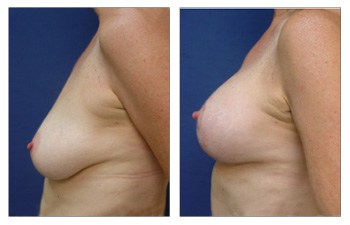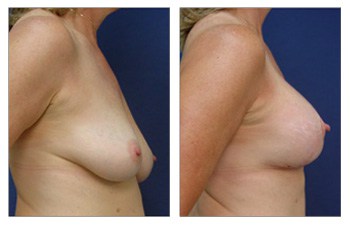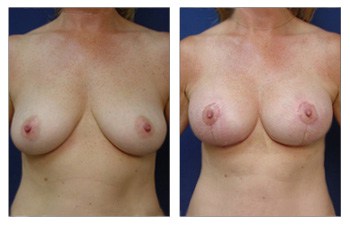 Medial breast cleavage is a huge goal for many patients that are looking for a breast lift. As your breasts sag, they tend to also drift apart, losing that middle chest cleavage that is aesthetically pleasing. If you find yourself in this situation, a breast lift with implant augmentation can be exactly what you need to get the cleavage you want.
The ability of a breast lift with the implant to create beautiful breast cleavage stems from the balance between breast size and shape. By simultaneously performing a breast lift and implants, a board plastic surgeon can correct any skin laxity and breast sagging you may have.
Additionally, the implant augmentation creates breast fullness to your desired level based on the implant size you choose at your initial consultation. This combination creates a harmonious breast appearance that looks full and natural with medial breast cleavage.
This 50-year old female began her research into breast surgery once she noticed her increasing breast sagginess. At 50 years old, our body has begun to reduce the production of proteins that are crucial to maintaining skin elasticity and tightness. This not only resulted in her breasts drooping down but apart as well. A breast lift with implant augmentation was the perfect solution to her desire to achieve medial breast cleavage. 
Breast lift with implant surgery is optimized using a modified vertical mastopexy which allows for significant elimination of breast tissue while also creating an ideal breast shape. This is combined with the inverted T-Weiss design to allow for beautiful incision line healing and a final breast appearance with cleavage that you can be proud of.
If you are interested in regaining your breast cleavage, contact Cosmetic Plastic Surgery Institute for a complimentary consultation today.
Here is a 50-year-old female 2 months following a bilateral breast lift with implant augmentation. Notice the increase in middle chest fullness that creates a natural cleavage look.
Related Posts