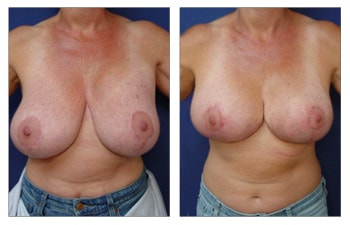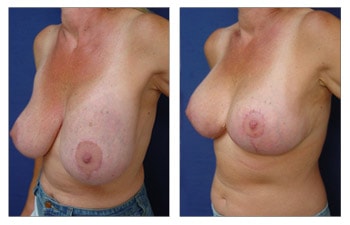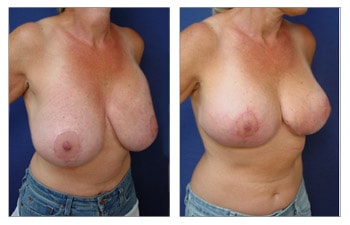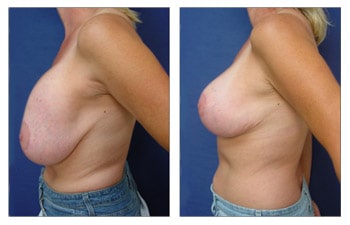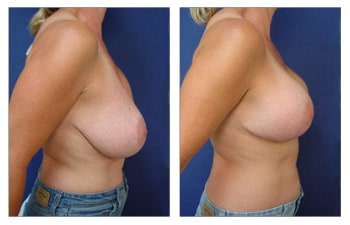 Breast lift with implant augmentation is the ideal surgery to correct most breast deformities. Why breast lift with implant augmentation allows for the ideal procedure to correct breast deformity is multifold.
First, the breast lift allows your surgeon to reposition the overall breast mound to a new, virgin territory. This is especially true if the breast mound is not only sagging but scarred and contracted. Often this tissue is no longer workable as the soft tissues have become stiff, fibrosis, and not malleable.
When tissues are not malleable, they can not be altered in shape making them impossible to remodel. In these situations, the only option your breast surgeon has is to move the entire breast mound to a position upon the chest which has not previously been altered.
A breast lift allows your surgeon to pull the nipple and areola to this higher, not previously used, and malleable region. The importance of simultaneous implant augmentation follows since the upper chest is often flat and requires soft tissue filling to create an aesthetically pleasing mound.
Since the native breast mound is sagging and fibrosed, it may not be reshaped and transposed to this more desirable position. Second, often breast deformity results in a significant asymmetry in the breast mound composition for example where one breast mound may be contracted and significantly smaller than the other. In addition, one breast may be sagging more than the other.
When these deformities are presented, the only option is to bring both sides to the same playing field, i.e. the upper chest. This is because even when the lower sagging breasts are asymmetric in size, shape, and position, the upper and mid-chest are usually equal in chest width and soft tissue thickness. By implementing a breast lift with implant augmentation to correct breast deformity, even stark deformities can be addressed.
The final breast lift with implant augmentation to correct breast deformity technique is suited for patients with prior breast implant augmentation. These patients will often demonstrate contracture of their breast implants which get stuck high on their chest.
This upper chest prominence if often contrasted with the breast mound and nipple-areola complex falling off of their implants as characterized by the patient presented.
The breast mound then must be repositioned over the location of the stuck breast implant as this is often a more favorable position. As such, a breast lift is integral to their correction. In addition, since there is likely implant silicone leakage that is causing the capsular contracture, the breast implant must also be replaced.
Implant replacement will also define needed alterations of the breast capsule requiring incisions, resections, and even repairs at times. Breast lift with implant augmentation to correct breast deformity is often a necessity.
Please appreciate this 48-year-old female 2 months following bilateral breast revision surgery including bilateral implant replacement, breast pocket reposition, and breast lift.
Related Posts