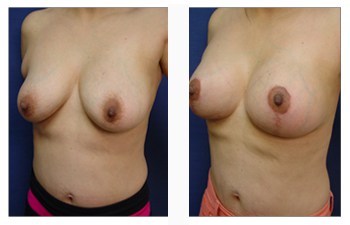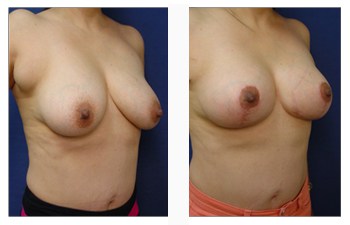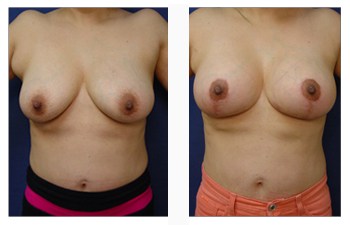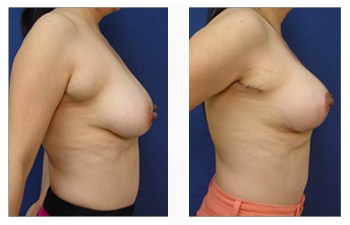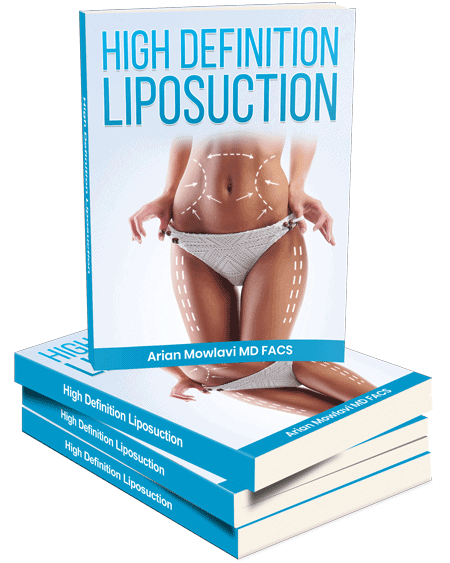 Breast lift with implants surgery is complex because it requires keeping the nipple and areola alive despite relocating it to a higher, more desirable position. When moving the nipple-areola up to its new position, back cuts are made into the breast skin. This results in a compromise of horizontal blood flow to the nipple such that the nipple must survive based on blood flow from deep to superficial only. Unfortunately, the deep to superficial blood flow is further compromised by the added pressure created by having a breast implant positioned and centered under the nipple and areola complex. As a result, it is critical to assess the degree of ptosis and the breast mound size desired.
Facts about Breast Lift with Implants Surgery
In general, the breast lift with implants surgery is limited to pulling up the breast and nipple and areola complex no more than 6cm. Additionally, the breast implant chosen may not have an implant diameter that is wider than ½ the chest diameter. Otherwise, patients risk having their implant push beyond their lateral torso and hitting their arm during sports. In addition, patients may have the implant encroach over the center of the chest thus resulting in a mono-boob, i.e. symmastia. Following your first consultation with Mirzaniq, you will have a better idea of the implant size and style required to achieve your desired goals. In addition, Our Surgical Team will be able to guide you to appreciate the extent of all of your incision lines needed to achieve your desired look.
Breast lift with implants surgery requires a modification of the traditional breast lift technique which utilizes an inferiorly positioned pedicle. The pedicle refers to the tissues that are preserved to ensure that the nipple and areola complex is kept alive despite the breast lift.
Because the implant is placed and sits on the bottom of your breast, the inferior pole pedicle cannot be used. Instead, the upper breast pole is used to design an upper pedicle using a vertical breast lift design. In fact, the breast lift with implants surgery utilizes a vertical mastopexy procedure for the sole purpose of avoiding compression of the implant on the pedicle to ensure appropriate blood flow to the nipple and areola complex.
This is why a 6cm limit if allowed for the nipple and areola lift. If you are considering a breast lift with implants surgery, we encourage you to complete a complimentary consultation at Cosmetic Plastic Surgery Institute.
Please see a 34-year-old female who successfully completed her breast lift with implants surgery.
Related Posts