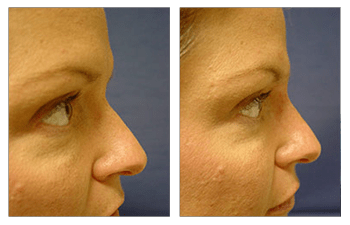 Dermal filler's cost varies based on the specific filler. Dermal filler's cost is determined by the doctor's cost for the actual filler and the fee charged by the surgeon to inject it. The average dermal fillers cost for Radiesse is $550 to $800. The average cost for Juvederm Ultra Plus is $450 to $600.
Different Dermal Fillers Cost
Regular Juvederm, a variant of Juvederm Ultra Plus costs less, in the range of $400 to $500, but it is softer and lasts for a maximum of 6 months. This is in contrast to Juvederm Ultra Plus which lasts 6 to 9 months. Both of these dermal fillers come in pre-packaged syringes that must be used on the day that they are opened.
Dermal fillers cost of Radiesse is offered in a 1.5ml volume and Juvederm Ultra Plus is offered in a 1.0ml volume. Dermal filler's cost may be increased if more than one syringe is required to achieve the desired improvement in volume.
Areas that are commonly filled include the lips, nasojugal crease, nasolabial folds, prejowls, jawline, temples, and even the nose. Remember, dermal fillers cost is based on the cost per syringe. So if you do need a second syringe, most providers will give you a break on the fee.
Radiesse filler is a bit more expensive because of calcium hydroxylapatite material that is used makes it last longer than Juvederm Ultra Plus. Dermal filler's cost may change over time depending on the availability of the product. Please contact us to check on the price and availability of the filler desired.
We highly recommend you do your research and pick the dermal fillers cost that is best for you. You are encouraged to come in for a consultation if you need further information regarding which filler is best for you.
This 33-year-old female 3 months following Radiesse injection of the nose to correct a low Radix and to complete her non-surgical nose job.
Related Posts