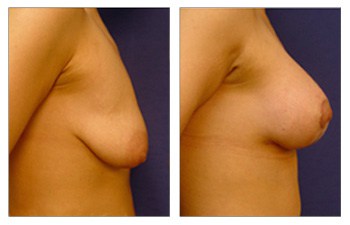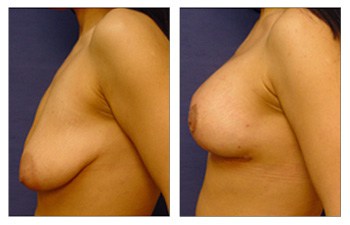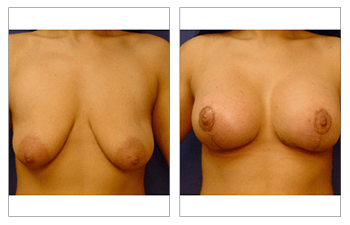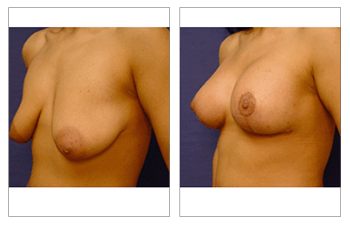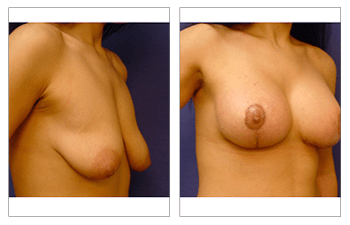 A breast lift with the implant to correct breast sagging is the most common reason for breast lift surgery. Unfortunately, the natural aging process results in a decrease of skin elasticity. This is due to a decrease in the body's production of the elastin protein which is primarily responsible for our skin's ability to stretch and recoil back into place. Without this protein, we begin to see sagging skin like our patients here.
A major key in any body contouring procedure is understanding the relationship between excess fat and excess skin. As detailed in Dr. Mowlavi's High Definition Liposuction Body Scale, the overall body contour is a delicate balance between skin quantity, skin quality, and fat volumes. Take our patient here as an example. She presented with significant breast sagging, but also a lack of breast fullness.
Unlike high definition liposuction, through the use of breast implants, you are less limited in your ideal breast size and shape. Not only did this patient want to eliminate her saggy skin, but she also wanted fuller breasts as well which results in the need for a breast lift with the implant to correct breast sagging.
A breast lift with implant surgery is a very common plastic surgery procedure. As such, it has been studied extensively and can be performed in various ways. The absolute gold standard in breast lift surgery is the vertical mastopexy technique. While this does result in the "anchor" incision line, there is no substitute for the harmonious and beautiful shape and size it can achieve.
Resident Newport Beach plastic surgeon Arian Mowlavi MD FACS utilizes a modified vertical mastopexy with an inverted T-Weiss design to facilitate successful healing of the scar. This will give you breasts that you can be proud of, both with and without clothes.
If you are having trouble with saggy boobs, consider a complimentary consultation with a plastic surgeon to see if a breast lift with the implant can correct your breast sagging.
Here is a 26-year-old female 1 month following simultaneous breast lift and breast augmentation with 325cc saline implants. Her incision lines will continue to heal and will be nearly invisible by the 3-6 month mark.
Related Posts