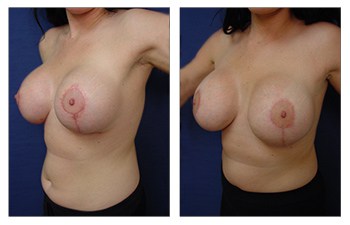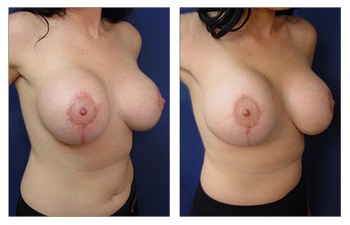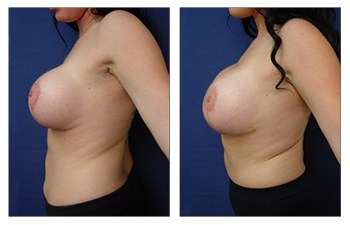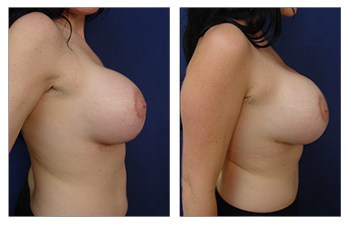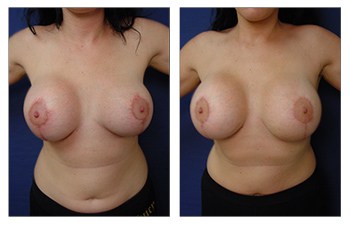 One of the biggest causes of breast augmentation revision surgery is due to breast size asymmetry and scarring. However, while this may be an unfortunate circumstance, a breast augmentation revision to correct breast size asymmetry and scarring will definitively fix your issue and get you those dream breasts you've always wanted! 
There are several reasons for breast asymmetry such as incorrect sizing at your initial consultation or an incorrect post-operative protocol. Regardless, a consultation with a breast augmentation revision specialist is the logical next step to correct breast size asymmetry.
The key to correcting breast size asymmetry is proper implant sizing during your initial consultation. This patient here showed breast asymmetry with a larger right breast. At her consultation with Dr. Mowlavi, she was sized to reduce her right breast implant and increase her left implant to achieve breast symmetry. At Cosmetic Plastic Surgery Institute, we keep a full stock of both saline and silicone implants sizes so she was able to physically see the exact sizes that she required to achieve a balanced contour.
Additionally, a breast augmentation revision surgery gave Dr. Mowlavi the opportunity to correct her periareolar scarring from her original breast augmentation. Notice the increased redness in the before photos compared to the after photos. This is achieved by using a modified vertical mastopexy design that results in less tension on the periocular region which allows for more successful healing. This technique is also fused with an inverted T-Weiss design to optimize the final shape of the breasts.
If you are interested in a breast augmentation revision surgery to correct breast asymmetry and scarring, contact us at Cosmetic Plastic Surgery Institute to schedule your complimentary consultation today!
This 23-year-old patient had a breast augmentation revision to correct breast size asymmetry and scarring. Her results 3 months after a bilateral breast augmentation revision show beautiful breast symmetry. She followed our complex post-operative protocol and also corrected her prior scarring deformity as well.
Related Posts