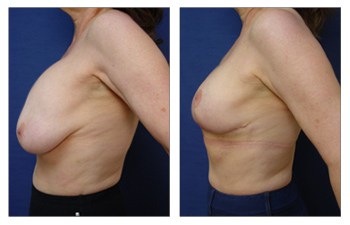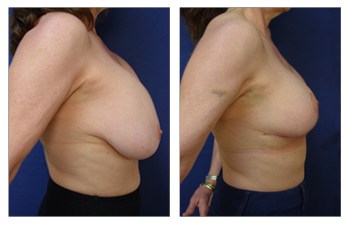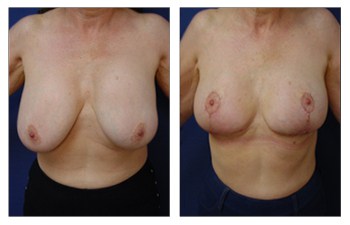 When someone thinks of breast augmentation revision in Beverly Hills, they imagine the best of the best when it comes to cosmetic plastic surgery. Beverly Hills has cemented its reputation as the capital of cosmetic plastic surgery across the country.
However, with the name, breast augmentation revision in Beverly Hills often comes with an inflated price. It is important for anyone searching for breast augmentation revision in Beverly Hills to focus on the surgical results and not the prestige of the location or surgeon.
Breast Augmentation Revision Before and After Results
There are a few keys to breast augmentation revision results. One is the overall improvement of the breast contour. This patient came to Cosmetic Plastic Surgery Institute for a consultation after researching breast augmentation revision in Beverly Hills.
She demonstrated a common breast implant irregularity known as the Snoopy deformity. This is caused when you use textured silicone implants and have capsular contracture while undergoing the natural aging process of breast sagging.
This results in the implant sticking up high while the breasts sag down, mimicking the appearance of Snoopy's head from the side view. In order to correct this, she received a breast augmentation revision with a breast lift to bring the breast mound back up and onto where the new plant will be placed. Another significant key to these before and after results is the consideration of the individual patient's age.
At 58-years-old, this patient's natural skin elasticity is much lower than a 20-30-year-old. As such, she was lifted more so than usual which results in the slight boxy appearance in the 3-month postoperative photo.
However, this is critical because once the skin returns to its normal length at around the 6-month mark, it will result in an ideal rounded appearance while avoiding the possibility of bottoming out.
If you are interested in a breast augmentation revision in Beverly Hills and arrived on this page, contact us today for a complimentary consultation!
This 58-year-old female following correction of severe breast deformity involving capsular contracture, implant malposition, and sagging nipple.
Related Posts