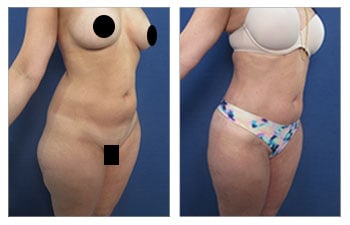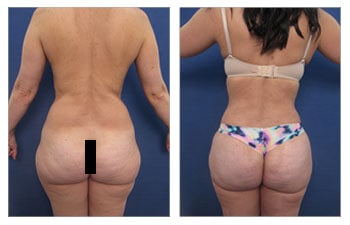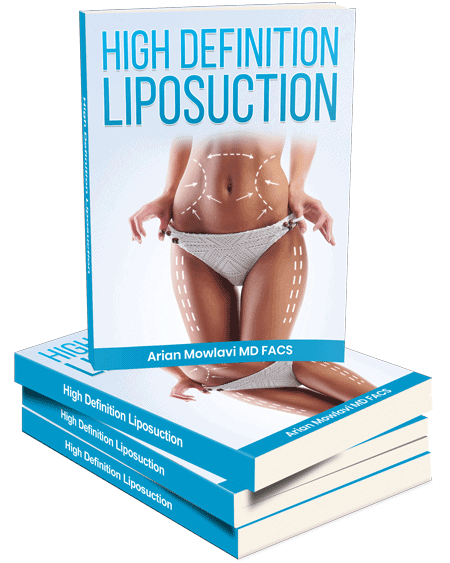 Please see this 45-year-old female patient's thighs demonstrating improved lateral thigh and buttock contour following adherence to our strict BBL revision policy.
If you are interested in a BBL revision, we urge you to contact our office so that we can prepare you early by reviewing our BBL revision policy and ensuring that you are optimized for your surgery.
Our BBL revision policy is very stringent and dedicated to avoiding all potentially negative risk factors that have led to an unsuccessful BBL result. To begin with, patients must optimize their nutrition in order to ensure an anabolic state during the early recovery period.
In an anabolic state, the newly transferred fat cells will be provided ample nutrition to help them through this compromised period. You must remember that in the immediate period of fat transfer, the fat cells are deprived of nutrients until a blood supply can get established. As such all efforts should be made to avoid starving the fat cells.
Our next BBL revision policy is to make sure that every effort is made to get us your prior surgery report. Knowledge of what areas were liposuctioned as well as the technique used for the liposuction are critical to achieving optimal BBL revision results. Our Surgical Team will attempt to remove the fat cells from any areas not previously liposuctioned as these fat cells are typically healthier and not likely to have been injured from prior liposuction efforts. In some circumstances, such as following the use of Smart liposuction, the fat cells will not be usable for fat transfer as they have typically been drilled and permanently injured.
Our next BBL revision policy is to ensure that your blood count is back up to normal. This is because BBL revision requires liposuction and fat harvest from areas that have previously been liposuctioned. In general, areas that have been previously liposuctioned will be ridden with scar tissue. As a result, patients undergoing BBL revision will experience more blood loss. As a result, all BBL revision patients are evaluated for their blood count, expressed as your hemoglobin level. When your hemoglobin levels are low, you will be placed on iron pills in order to increase your blood count
Related Posts