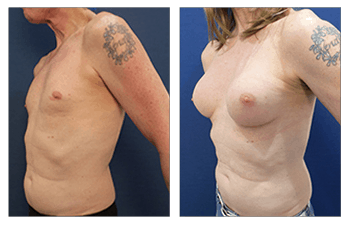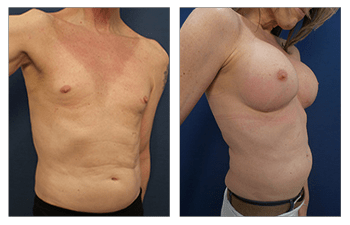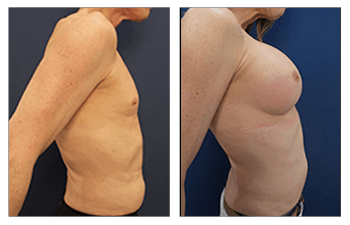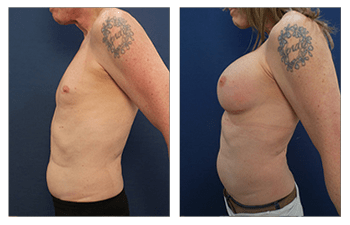 Transgender male to female breast surgery recognizes the constraints of the male chest anatomy which includes tight overlying chest skin. This constraint must be overcome when attempting to increase the overall fullness of the chest to appear more feminine.
Additionally, the male breast perimeter must be converted from a straight line appearance to a more rounded appearance. Finally, the nipple-areola positioning and size must be altered to create a more feminine representation.
Transgender male to female breast surgery protocol
Transgender male to female breast surgery protocol involves similar breast augmentation surgery utilized in female patients. However, breast augmentation in transgender males is performed using a more conservative implant size. This is because a generous sized breast implant will not be accommodated by the tighter skin envelop of the male chest.
Furthermore, ideal breast augmentation requires localization of the nipple areola complex near the center of your chosen implant. Since the male nipple areola complex tends to be lower than the female nipple and areola, this makes the centering a larger implant not feasible.
As such, transgender male to female breast surgery requires utilization of a more modest implant that then encourages the tight male chest skin to stretch out. Our transgender male to female patients will then be asked to delay their second stage of breast augmentation implant replacement for a minimum of 6 to 12 months following their initial augmentation surgery.
This delay allows not only the chest skin to stretch out but also allows the nipple to inframammary crease distance to stretch out and accommodate a larger implant diameter and subsequent size.
At this time, our transgender male to female breast surgery clients is also offered a small medially based pedicle breast lift that can both adjust their nipple and areola position more centrally but also to make the areola larger and more feminine in appearance.
In summary, transgender male to female breast surgery allows for the transformation of the male appearing chest into a more feminine shape. Minor modifications of the female breast augmentation surgery are required to achieve this female breast shape conversion. If you are interested in undergoing breast gender conversion surgery, we encourage you to make a consultation with Dr. Mowlavi who will be able to guide you and help you plan out the largest implant size possible.
Please see this 60 years old client who was able to achieve aesthetically pleasing feminine shaped breasts.
Related Posts