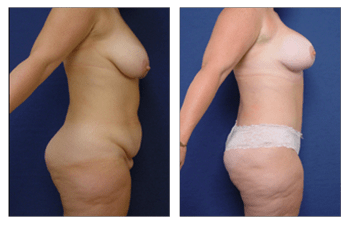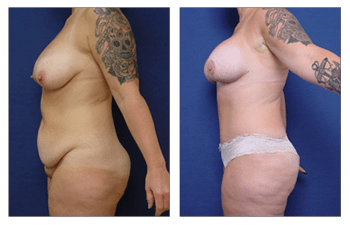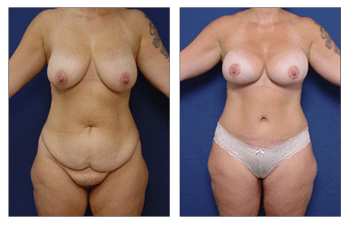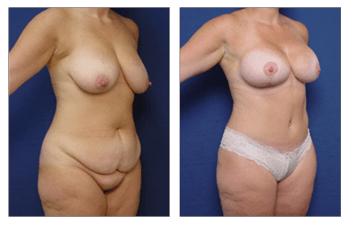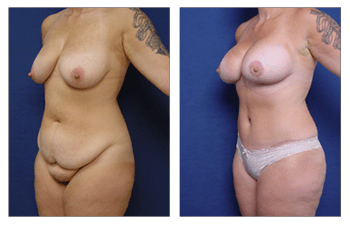 Mommy makeover before and after results will demonstrate comprehensive correction of all breast and body areas. Dr. Mowlavi prides himself on the universal improvement of a patient's appearance such that there is the harmony of contour shapes and lines throughout.
When you evaluate mommy makeover before and after results, Dr. Mowlavi urges you to look at the transition sides, i.e. the sides such as the flanks, the waistline, and the lateral chest region.
In order for you to feel your best, he feels that your appearance needs to be corrected circumferentially. Circumferential contouring has also been referred to as 4D contouring and requires your breast and body to look good from all angles of view. Traditionally, body contouring was limited to fixing your front for example with a combination of breast surgery and tummy tuck.
Recently, the back and buttocks contour appearance has become popular with the introduction of the Brazilian buttocks lift or buttocks implants. As a result, the front and back contouring have become expected.Dr. Mowlavi has now introduced to the concept of transition contouring which refers to ensuring that the back and front contour are harmonious by contouring the sides such as the flanks, waistline, lateral chest region. When you look at mommy makeover before and after results, it is imperative to judge the transition zones, i.e. the sides.
The contouring shapes of the front and back must allow for smooth transition contour lines by paying close attention to lateral flanks, the waistline, and the lateral chest region. Only by correcting the transition regions above will harmonious contour lines be established.
When you observe circumferential mommy makeover before and after body contouring results, you will appreciate that you can now look fabulous in or out of clothes so that you can feel your best at all times.
Mommy Makeover Before and After Results
Please appreciate this 37-year-old female 1 month following bilateral breast lift and implant augmentation, full tummy tuck with muscle plication, and bilateral medial thigh tuck (Inner thigh lift) following liposuction of the lateral and medial thighs and medial knees.
Related Posts