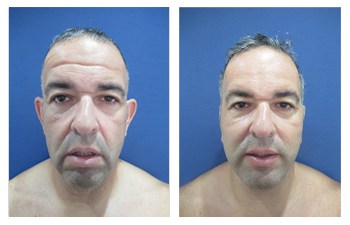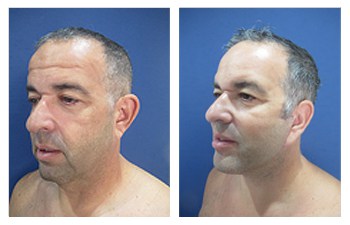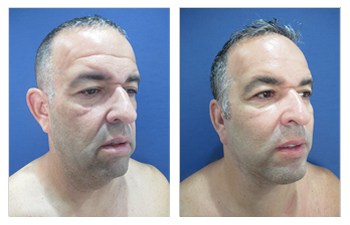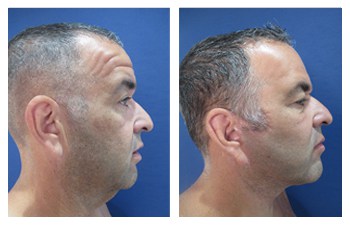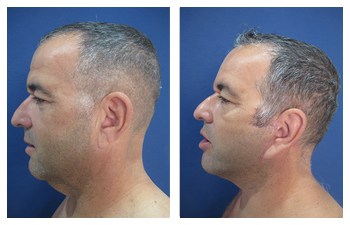 49-year-old male patient who succesfully underwent a facelift after considering facelift costs.
One of the biggest concerns for individuals looking for a more refreshed facial appearance is how much do facelifts cost. Consequences of aging lead to jowls, sagging around the neck and below the jawline, one of the most common complaints of facelift patients. Gravitational effects also take a toll on the face, such as sagging and overall laxity of the skin.
If you are worried about how much a facelift costs there are a few options you may consider. Mini facelift, facelift, and SMAS facelift are three very popular facelift treatments with flexible costs and payment plans. The SMAS facelift stands for, superficial muscular aponeurotic system, and entails retightening both the facial tissue and facial muscles for more effective, long-lasting results.
Since this treatment is more invasive and extensive it tends to make the facelift cost more; however, the results produce a more natural look and smooth contour with zero imperfections. Another option is the standard facelift.
A standard facelift works to smooth and retighten the facial tissue. As a result, wrinkles disappear and that youthful voluminous look is replenished. Since this procedure is less invasive than SMAS it is less costly, but the results may not be as long-lasting as the SMAS facelift.
Facelift costs for mini facelift is the cheapest procedure. Unlike the facelift and SMAS facelift it is less invasive; therefore, lowering the cost significantly. A mini facelift involves a smaller incision to resolve saggy facial skin and wrinkles.
Unfortunately, mini facelifts do not address excess skin or sagging neck skin because of a smaller incision site. All three procedures offer a wide array of options accompanied by flexible payment plans. Since every patient is different and every patient is looking for a different result, facelift costs also varies.
However, the effectiveness of each treatment can not be undersold. Regardless of the treatment and facelift costs, patients always notice a significant improvement in their facial aesthetic.
Related Posts