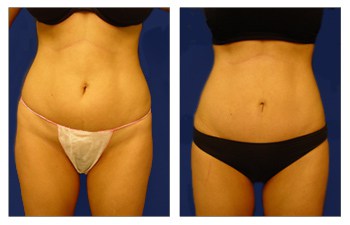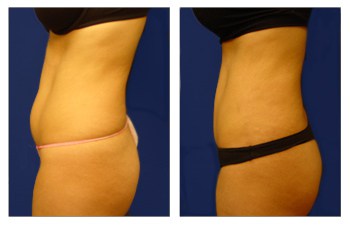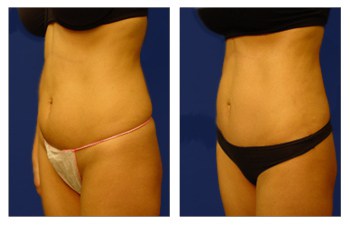 A mini tummy tuck, also known as a mini abdominoplasty, is a popular procedure, requested by both men and women, that removes minimal excess skin and fat, tightening the abdomen. Your chosen board certified plastic surgeon should share an open dialogue with you as a patient describing what a mini tummy tuck entails and how a mini tummy tuck is performed.
To begin, an individualized plan will be made by your surgeon by addressing your abdomen fat and any present skin redundancy and stretch marks. After having your skin and fat evaluated, your discussion with your board-certified plastic surgeon should then address the surgical plan.
A mini tummy tuck is performed within 1 hour to 2 hours. After anesthesia is administered, the abdomen is filled with tumescent solution and the liposuction is performed.
A mini tummy tuck requires a small incision in the pubic region, and if your surgeon is more expert in the mini tummy tuck and body contouring procedures, this incision should strategically be made to not be seen if wearing bikini bottoms.
The incision is made down to the abdominal muscle, separating the skin and fat from the muscle up to where the belly button is. This entails the removal of the fat, excess skin, as well as lower body stretch marks from the belly button and under.
From the cut, the skin is cut, and repaired, tightening the abdomen. Following the surgery, you will have a drain, which will be inserted intraoperatively, that will be with you for your first week.
Your mini tummy tuck is performed within 1-2 hours, but grant you results that look as if you were in the gym or toning and contouring for years. Newport Beach board certified plastic surgeon, Dr. Arian Mowlavi, is a body contouring and mini tummy tuck specialist, who offers both in person and virtual complimentary consultations to discuss your mini tummy tuck expectations and how a mini tummy tuck is performed.
Please see this 34-year-old female 2 months following a mini tummy tuck and liposuction of bilateral lateral thighs. Please note improvement in overall abdominal, buttocks, and thigh contours.
Related Posts