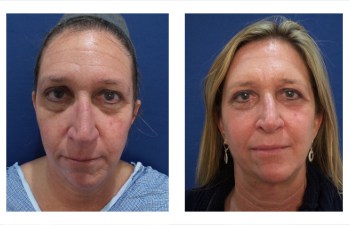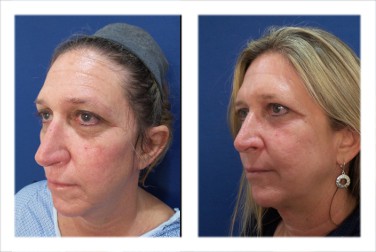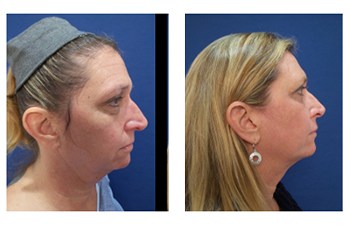 Facelift surgery is done by addressing all of the age-related and sun-damaged skin and soft tissues of the face. This surgery requires the lifting of the skin and fat layers first. Next, the lining of the facial muscles is elevated and then pulled up.
Facelift Surgery Results
This will result in tightening all of the muscles and ligaments and elimination of the jowls. Next, the skin of the face is tucked back after cutting out the skin redundancy.
All of the skin redundancy is eliminated thus resulting in the elimination of skin and soft tissue excess and unnecessary wrinkles lateral to the nasolabial folds. Two drains are placed to allow for the removal of excess fluid and drainage.
In addition in facelift surgery, the central face, located medial to the nasolabial folds are resurfaced to efface any aging lines around the mouth. The area around the eyes and forehead can also be resurfaced to remove any unwanted lines or skin wrinkling.
In facelift surgery, the only incisions used to access both the muscle lining as well as to cut out redundant skin are positioned strategically around the ear. The ear incisions are positioned strategically to take advantage of the natural appearance of the areas and changes in the hue of the face and ear. 
In addition, the hairline incisions are leveled against the hair follicles thus allowing the hairline to grow through the incision line making the incision transparent.
When a facelift surgery is done properly, it results in the elimination of all of the aging and sun-damaged changes while not result in an operated look.
This consequence follows since extraneous tension is not observed on the skin. This is because the tension is placed on the underlying muscle lining layer only thus avoiding unnecessary tension on the skin layer.
Another reason is that facial scarring is avoided because the skin layer is pulled only lightly thus minimizing tension on the incision line. Minimizing incision line tension will result in the avoidance of future scarring.
Finally, the improvements in facial rejuvenation are permanent since the face is pulled in two separate layers thus resulting in a comprehensive lifting of all tissues.
If you are interested in learning more about how facelift surgery is done, we encourage you to make a complimentary consultation to discuss the nuances of having a facelift surgery done.
Related Posts