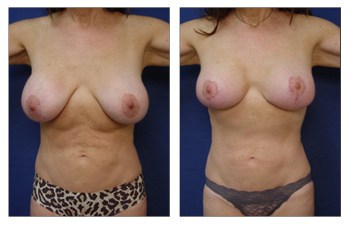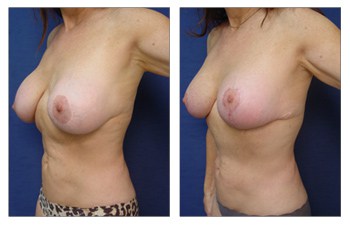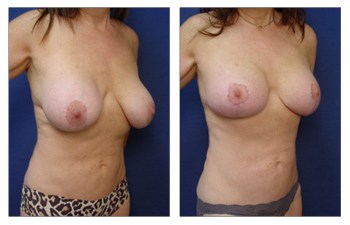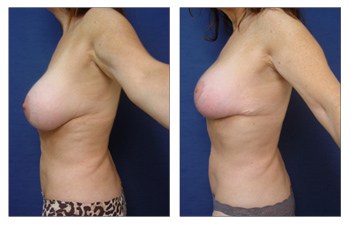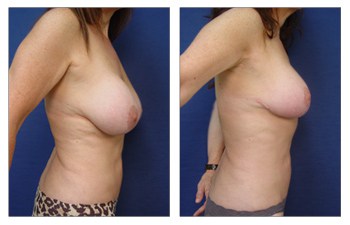 Breast augmentation revision of aged breast implants is designed to correct the sagging appearance of your prior breast augmentation surgery. Skin looseness is a natural and unavoidable consequence of aging. After the age of 40, the body begins to lose the ability to produce a protein called elastin that is responsible for much of our skin's elastic ability. Therefore, even the best breast augmentation surgeries may need revision after several decades.
This patient demonstrates the natural appearance of an aged breast implant surgery done decades ago. Due to her smooth saline implants, she was able to avoid the commonly seen Snoopy Deformity that is seen with textured implants.
As such, her implant naturally sagged as her skin lost some of its elastic ability as she aged. If she had textured implants, the implants would not have slid down with the skin which causes the irregular appearance resembling a snoopy head when viewed from the side.
Regardless of your prior implant style, a breast augmentation revision specialist will be able to correct any irregularities you may have. However, a revision for aged breast implants such as our patient here is more complex than a traditional breast revision.
This is due to the added factor involving the excess skin. If your surgeon fails to address your sagging skin, you will never achieve your desired breast appearance.
Therefore, the revision of aged breast implants often includes a simultaneous breast lift. This also brings the importance of implant sizing into the equation. Once you communicate your desired appearance, the surgeon must be able to visualize the resolution of your excess skin and determine which implant size will result in the ideal breast appearance.
If you notice a similar breast appearance as this patient, contact us to book your complimentary consultation today.
Please see this 52-year-old female before and after her breast augmentation revision of aged breast implants. She had her prior smooth saline implants removed and replaced as well as a breast lift to correct her skin looseness.
Related Posts