Brazilian Buttock lift recovery is surprisingly easy and requires minimal effort. Since there are no large incision lines to heal, patients are allowed to advance their physical activity as tolerated. Patients are asked to avoid sitting on firm objects for the first two week to avoid creating any contour dents. Otherwise, there are no limitations in this recovery instructions and NO special sitting pillows are required.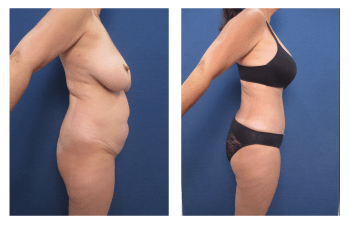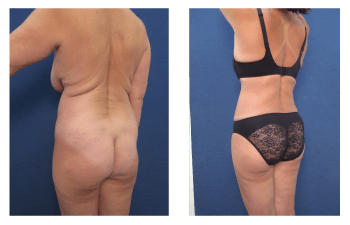 The recovery is dictated by the time it takes the fat cells to re-establish blood flow which occurs over the first 72 hours. Therefore as early as one week following surgery, patients are allowed to resume full physical activity with no concern of harm to the fat graft viability. The buttock lift recovery only requires a regimented postoperative message protocol. Patients are expected to complete a minimum of 5 lymphatic messages over the first week to 10 days. These messages provide not only pain relief by desensitizing the sensory nerves but also ensures smooth contour and improved highlights following high definition body contouring.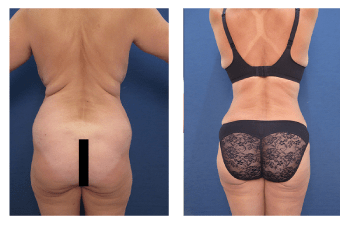 Brazilian Buttock lift recovery is feasible, as we admire our 61-year-old female who who was photographed a month after surgery, demonstrating highlights following a seamless recovery from HD liposuction of the back, lateral thighs, Renuvion skin tightening and Brazilian buttock lift.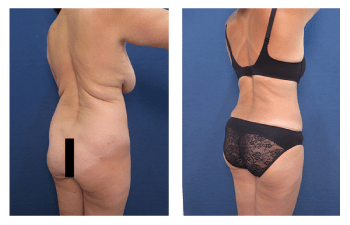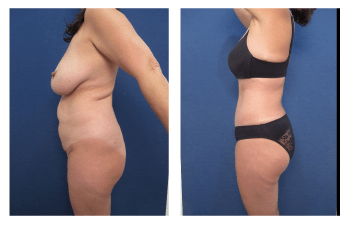 61-year-old female following HD liposuction of the back, lateral thighs, Renuvion skin tightening and fat grafting to the buttocks