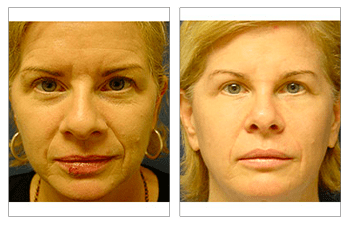 Fat transfer for female faces requires intimate knowledge of female face ideals. This begins with appreciating that the rejuvenated female face contour should mimic that of a heart. That means that the face should have a rounded upper outer contour that is maximally full at the level of the cheekbone, i.e. zygomatic arch, which then transitions to a narrowed lower chin region.
The transition from the upper to the lower face must be smooth and much like the shape of a heart. As the female face ages, it will actually lose volume as fat atrophies over time. This is counter intuitive to other areas of the body which tend to increase in fat volume with the slowing of your metabolism.
Regardless, with loss of fat volume in the face not only sagging of the redundant facial skin occurs, but also fullness is lost from the upper, outer face as it bunches up along the jawline over the lower face changing the facial shape into a spade. This undesirable shape is in contrast to the desired heart-shaped facial structure
The goal of fat transfer for female faces involves transforming the aged spade shape to a youthful heart shape. This is accomplished with generous fat transfer to the face that may include the lateral orbital rim, around the eyes, the temples, the lateral cheeks.
There is also an area over the medial cheek, described as the nasojugal groove that when deepened will create slack of the medial cheek, thus improving the appearance of the nasolabial folds. Fat transfer for female faces can expect to have up to 30cc of fat injected routinely to achieve a more rejuvenated appearance.
Specialized in facial anatomy and beauty aesthetics, Dr. Mowlavi is a board-certified plastic surgeon located in Newport Beach, CA. Here at Cosmetic Plastic Surgery Institute, we offer virtual and in house consultations to accommodate patients in the state, across the country, and all around the world.
Fat transfer on a 48-year-old female with 6 months following fat grafting to the lower eyelids, cheeks, lips, & nasolabial fold.
Please see this 52-year-old female 3 months following facial fat grafting, Erbium facial resurfacing, and lower blepharoplasty.
Related Posts