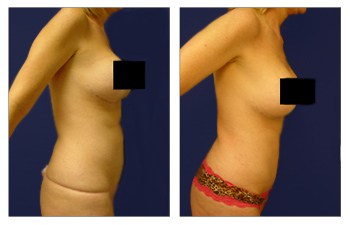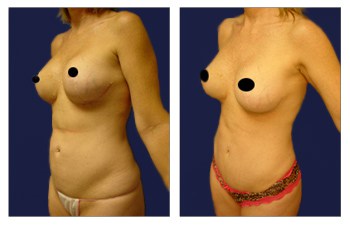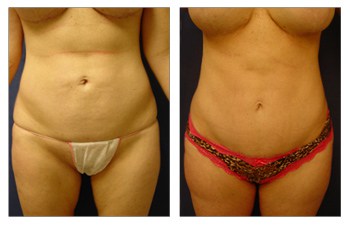 A mini tummy tuck does not tighten muscles. If a surgeon finds that your muscles have been pulled apart, it will be recommended to have a full tummy tuck with muscle repair.
A mini tummy tuck does not grant a surgeon the ability to reach the upper and lower muscles. A mini tummy tuck reaches only the lower muscles, although if tightened, what results is what we call a "muffin top."
A muffin top can be described similarly to the appearance of a muffin, having a tighter bottom and a more inflated top. If a surgeon just tightens the lower belly, you will create a muffin top.
Newport Beach board-certified plastic surgeon, Dr. Arian Mowalvi, is not only a highly experienced and well-known body contouring surgeon, but also is an expert in mini tummy tucks and full tummy tucks.
With muffin top deformities, revision tummy tucks are needed to revise and correct the inflated top. The revision tummy tuck is a full tummy tuck, providing the surgeon the ability to reach the upper and lower muscles and provide appropriate muscle repair, tightening both the top and bottom to smoothen out the abdomen.
If you are recommended a mini tummy tuck, this does not entail tightening the muscles. If a man or woman is in need of muscle repair, your surgeon should explain that this must be done with a full tummy tuck, and that a mini tummy tuck does not entail the tightening of muscles for the reasons of the unwanted muffin top.
At Cosmetic Plastic Surgery Institute, board-certified plastic surgeon and body contouring specialist, Dr. Arian Mowlavi, shares that he has had many women and men that come in with the described muffin top, correcting this by a tummy tuck revision.
We are always in favor of patients who have done their research and have found the surgeon that best communicates the expectations and information about any procedure to their patients, as well as has many photos to support the beautiful results that the surgeon provides.
Please see this 45-year-old female 6 months following a mini tummy tuck, breast lift with the implant, and liposuction of the abdomen. This patient demonstrates the transformation of her breast and body appearance.
Related Posts