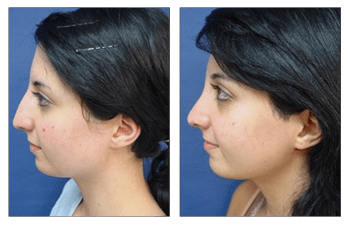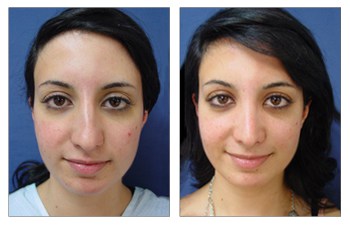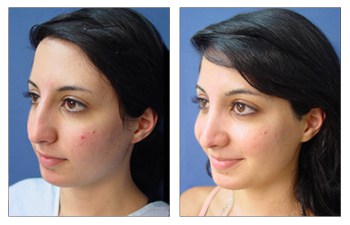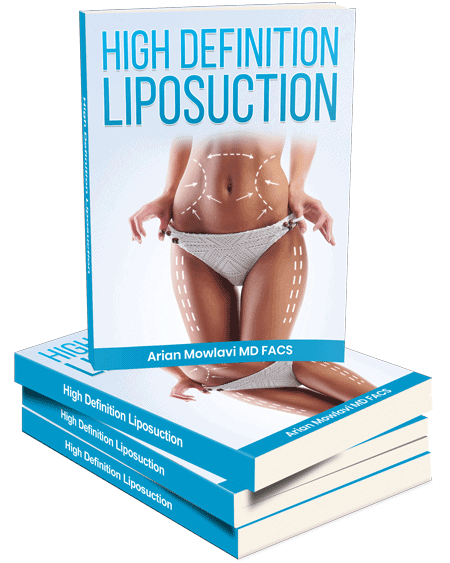 Closed rhinoplasty before and after results will demonstrate improvement in the nasal contour spanning from the supratip region (just above the tip) up to the radix (the origin of the nose just under the forehead).
This is because the closed rhinoplasty procedure is able to access all of the nasal structures except the tip by virtue of an intranasal incision that is positioned just above the tip.
Closed rhinoplasty Before and After Photographs
Before and after photographs should demonstrate improved nasal dorsal lines that following a gentle C curve down from the medial eyebrows to a maximum narrow width at the nasal bones and which then diverge out to the nasal tips.
The before and after results will also demonstrate the correction of any alar rim asymmetry and even any supratip fullness.
Finally, closed rhinoplasty before and after photos will finally demonstrate nasal tip aesthetic improvements not by virtue of direct nasal tip alterations but because of the illusion created by improving the contour of around the tip.
Specifically, by lowering the nasal dorsum and debulking the supratip region, an allusion will be created making the tip look more prominent as if it has been reinforced and repositioned.
In reality, this improved appearance of the tip is merely because the surrounding structures have been modified.
When evaluating the results, please appreciate the appearance of an improved nasal tip position even though it has not been altered numerous closed rhinoplasty before and after photographs should be presented by your nasal surgeon in order to demonstrate proficiency with this surgery.
If you are considering closed rhinoplasty surgery, we urge you to review before and after photographs with a critical eye. Look for natural results that are not operated in contour and symmetric when viewed from both sides.
Please appreciate this 16-year-old female following closed rhinoplasty and submucous resection of a deviated septum and enlarged turbinates.
Related Posts